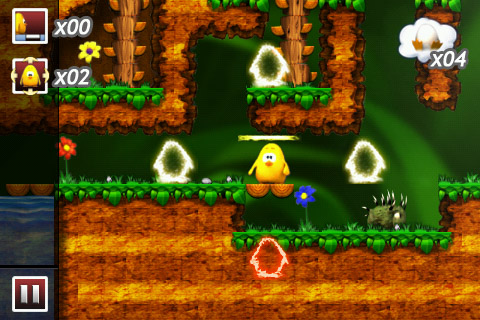 Dutch developer Two Tribes announced today that they will be releasing Toki Tori for the iPhone and iPod Touch in the first quarter of 2009. Toki Tori was originally released for the Gameboy Color in 2001 and has since been updated for with a well-received Wii release:
"We are happy to announce that we are able to bring the full Toki Tori experience to iPhone gamers.", says Martijn Reuvers, Managing Director at Two Tribes. "A lot of games get dumbed down before being released on the iPhone, but we believe in full quality games and offer exactly this with Toki Tori."
The gameplay of Toki Tori is described as a blend of both platform and puzzle genres. The use of special tools or items on each level allow the player to successfully navigate each level. The developers claim to have adapted the game to take advantage of the iPhone's unique control system.
Click on thumbnails to view additional screenshots:

Toki Tori
was well reviewed as a WiiWare game and nominated for Best WiiWare Game and Best Puzzle Game in IGN's 2008 game awards.
This video shows gameplay from the Wii version:
The game is expected in the first quarter of 2009.