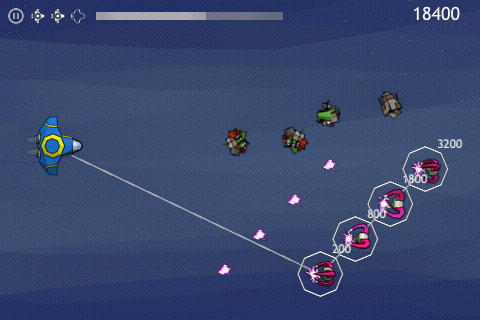 Radio Flare [App Store, $4.99] is a musical side-scrolling shooter that we reviewed back in December.
We found the game to be a solid shooter title but were perhaps a bit disappointed in the musical aspect of it. With only 5 stages at the time, however, the game was felt to be a bit on the short side. The developers have taken customer feedback to heart, and have recently released a new 1.1 update that offers a number of improvements, including two new stages.
"We are a young studio committed to producing great quality games. We listened to the audience and critics to learn what to make better in Radio Flare" explains Fares Kayali, one of the two founders of studio radiolaris. Martin Pichlmair adds: "We knew that we had got the game mechanics right but that the level design needed one more iteration. The game started out too easy and went too hard later on. We balanced it better in this release, made the difficulty curve smoother"
These changes are detailed:
2 completely new stages
Several new and challenging enemy types
Power-ups for greater gameplay variety and fun
Huge graphics update
A cleaner yet fancier menu interface
Numerous bug fixes
A new gameplay video highlights some of the new enemies:
If you're a shoot 'em up fan, we definitely recommend giving the Lite version a try (headphones recommended). We quite enjoyed the original game as a shooter and felt the controls were well suited to the iPhone.
App Store Link: Radio Flare Lite, Free, Radio Flare, $4.99