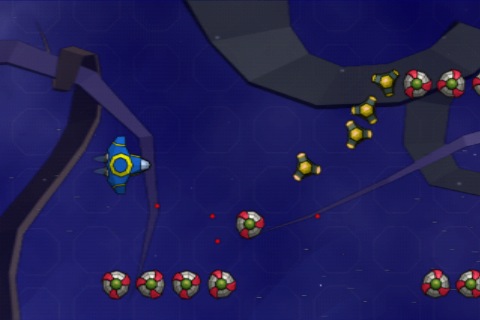 Studio Radiolaris' first iPhone game was released to the App Store this weekend. Radio Flare [App Store, $4.99] is described by the developer as a "musical shooter" in which enemies are destroyed in sync with the beat:
In Radio Flare, your space ship is equipped with a sonification beam that desynchronizes space debris, as well as an entire alien invasion force. Propelled by radio flares, your ship speeds pulsing through deep space, taking you on a journey into sound. The game features an interactive electronica track from Berlin based electronic musician DJ Glow (Trust Records).
The game is structured as a traditional side-scrolling shooter in which you must destroy enemy ships and avoid enemies and their incoming fire. Each destroyed enemy leaves a "radio flare". These radio flares must be collected in order to progress to the next levels. The game includes only 5 stages with the final being a special boss-fighting stage.
The controls for the game are actually well implemented which involves the use of your left thumb to provide direct movement control of your spacecraft, while your other thumb provides targeting. The targeting of your enemies is similar to Space Deadbeef in which you can target multiple enemies with the swipe of a finger.
Your "sonification beam" will destroy the enemy and also provide a bit of musical accompaniment to the soundtrack (headphones recommended). As the major selling point of the game, however, the musical interaction was a bit of a disappointment in its scope. The music certainly adds significantly to the atmosphere and immersiveness of the game, but is perhaps a far cry from Rez and similar musical shooters that have preceded it.
As a scrolling shooter, however, the game was a surprisingly good experience. Side-scrolling shooters have been poorly represented on the App Store with Platypus being perhaps the most notable title. Using direct touch-control on your ship allows you to quickly maneuver around enemies and incoming fire, though your finger will sometimes obscure your view. While I quite enjoyed the mechanics of the game, the game is limited to 5 stages, with the first three being relatively easy. So gameplay value is limited despite the offering of achievements (example: make it through without losing a ship), high scores and fastest time records.
Combine both of these features (musical interaction and scrolling shooter), and you come away with a good but short game. Fans attracted to the "musical" aspect of this title may be disappointed, though scrolling shooter fans may find enough in it to take away for the $4.99 price. Meanwhile, it likely doesn't fall into any "must have" category for those with only a casual interest in the genres.
Developer video:
Game Details

Name:

Radio Flare (v1.0)

Price:

$4.99 [Buy]

Developer:

Studio Radiolaris

Size:

12.2 MB

Device:

Tested on iPhone 3G
Radio Flare is an immersive "musical shooter" that shines more as a shooter than a musical title. The game, however, is rather short with only 5 stages.