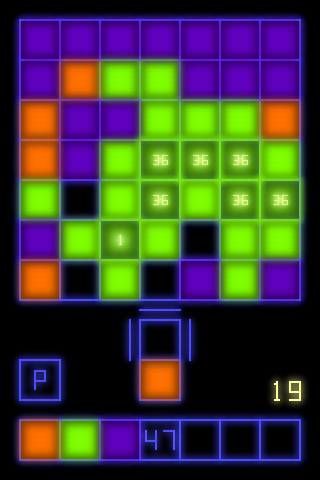 Readers may remember our previous coverage of Passage [App Store, $0.99] by Jason Rohrer. Passage was Rohrer's critically-acclaimed game about life that lasts a mere five minutes. Individual interpretations of the game varied and resulted in a heated TouchArcade reader discussion on what qualifies as "art".
Well, Jason Rohrer is back in the App Store with the release of an original puzzle game called Primrose [App Store]. This game, however, is a more traditional departure for Rohrer.
Rohrer told us that his work in game design for the past three years has been involved in the more artistic side. After making eleven of these type of "art games" such as Passage, Rohrer says that Primrose is different.
When we asked him about his inspiration for this game, Rohrer provided the following in-depth answer:
Jason Rohrer: We all love deep, interesting games that might offer a lifetime of play, so why don't we make more of those?

That's what I set out to do with Primrose. After being inspired by Frank Lantz's game Chain Factor (Drop7 on the iPhone—get this game now), I realized that there are more possibilities in the realm of deep puzzle games than Tetris and Bejeweled clones. I studied a dozen or so puzzle games that offer deep, satisfying gameplay, and I picked them apart to see what makes their designs tick. I came up with a set of design principles that they all seem to follow, and then I looked for ways to satisfy those principles with new game mechanics. It turns out that there are lots of interesting games just waiting to be designed. Primrose happens to be one of them.

After settling on the basic game mechanics, I had to tweak the design a lot to make it work in practice—to prevent games from lasting forever and so on. That took a lot of work, but I'm very happy with the result.
The game is being simultaneously released on iPhone, Mac, Windows, and GNU/Linux platforms today (probably here), but the iPhone version appears to be the first one available. Rohrer did all the coding, graphics and sound for all the platforms releases and spent time making Primrose a well behaved iPhone application. Primrose's sounds can play along with your music and game resumes perfectly after an interruption or phone call.
The game itself is hard to explain, so I've included a brief gameplay video. You are given random pairs of colored tiles that you must place on a 7×7 grid. The first tile can be placed anywhere while the second tile must be placed in the same row or column. When a group of one color is surrounded by another color, that group of tiles is cleared and the surrounding tiles flip colors allowing chain reactions to occur.
While the gameplay video provides a brief glimpse of the mechanics of the game, it was recorded on one of our first plays so doesn't represent any real coherent strategy.
We've only spent a brief amount of time with it so we can't give a qualified impression, but the app and gameplay seem solid. Rohrer accurately describes it as "a small bit like Go and Othello (if either of those were one-player games), a small bit like Lights Out, and a big bit like nothing you've every played before."
One of our regular forum users has already composed some thoughts on his very early experience with the game and found it the gameplay to be nice and feels drawn to play it further. He also feels that its "recommended for sure" for puzzle gamers. One helpful note is the recommendation to assign yourself a name (Edit Name) before starting your first game so high scores are accurately saved.
A few other nice touches to the game is the inclusion of a global high score in which moves are saved. This means you can actually watch and playback the high score games to improve your strategy. Primrose also offers a color-blind mode.
App Store Link: Primrose, $2.99