Earlier this month we previewed a then-unnamed upcoming flying game from GameResort, makers of Downhill Bowling.  Since then the game has received both a name, Biplane: Wings of Raccoon [link], and a spot in the App Store.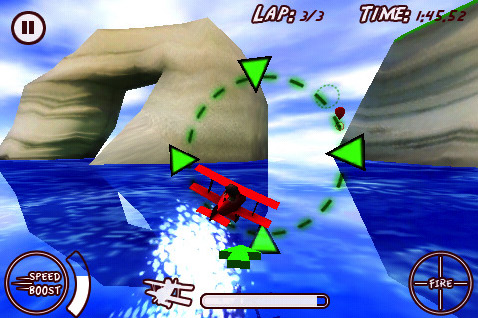 Biplane features nine courses and two modes of play: Arcade and Race.
In Arcade, you basically try to shoot down as many enemy targets as you can to get the highest score. Ships spawn crates (yes, good old crates) which you can pick up and drop on a specific target for additional points.

In Race mode, there are 9 different courses where you have to fly through a series of hoops in sequence. We use the same mechanics (shoot stuff down, pick up and deliver crates) except that it gives you a time bonus.
The game utilizes accelerometer flight controls with on-screen touch zones for firing and activating a temporary speed boost.  As can be seen from the developer's demonstration video, Biplane is a cartoonish flyer that does not strive to provide a realistic flight experience; it's all about bullseyeing targets, blowing up enemies, and racking up the most points possible.
Biplane: Wings of Raccoon debuted yesterday and has been well received by our forum readers.
App Store Link: Biplane: Wings of Raccoon, $1.99