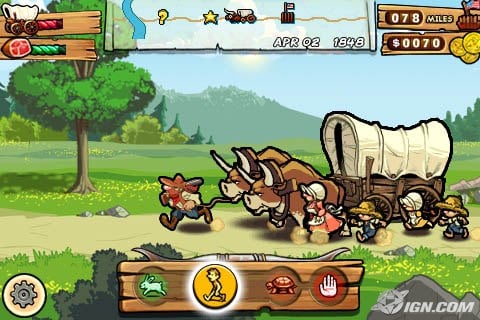 IGN posted some screenshots from the upcoming iPhone version of The Oregon Trail.
This classic game which was developed in the 1970s and later saw popularity in the 80s and 90s has been recently revived by Gameloft for mobile phones.
As Wikipedia describes it,
The Oregon Trail is an educational computer game developed by Don Rawitsch, Bill Heinemann and Paul Dillenberger in 1971 and produced by MECC in 1974. The game was inspired by the real-life Oregon Trail and was designed to teach school children about the realities of 19th century pioneer life on the trail. The player assumes the role of a wagon leader guiding his party of settlers from Independence, Missouri, to Oregon's Willamette Valley by way of the Oregon Trail via a Conestoga wagon in 1848.
See screenshots of the Apple II and Mac versions of the game.
We presume Gameloft is bringing this title to the iPhone. No release date has been provided.