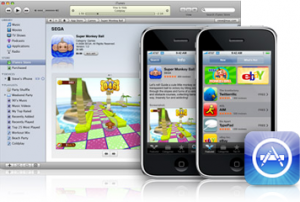 As MacRumors reports, a recent study from ComScore reveals that iPhone and iPod touch users are far more likely to download games for their mobile device than other smartphone users, a truth that comes as little surprise to many iPhone developers out there.
ComScore indicates that gaming on mobile phones is up 17% over the previous year due to growth of mobile handsets such as the iPhone.
With its touch screen, robust processor, and 3-D graphics capabilities, it's no surprise that the iPhone 3G has been a hit with gamers. Apple iPhone owners accounted for 14% of mobile game downloads, ComScore said. Overall, 32.4% of iPhone users have downloaded a game, compared with a market average of 3.8%.
And it's not just games that are seeing huge downloads in the App Store.  Looking at the smartphone app landscape, Pelago CEO Jeff Holden determined that the current base of 13 million iPhone owners had already downloaded as much software as the equivalent of 1.1 billion owners of other mobile phones.
To a developer, what this means is that if he launches an app for non-iPhones (assuming he has deals with all carriers and has ported to every handset in distribution on which people can download apps), he needs to have a reach 94 times as large as the reach he needs in the iPhone community (which does not require any carrier deals and is via single platform, so no porting) to achieve the same number of downloads. In other words, the 13MM iPhone audience is equivalent to 13MM * 94 = 1.6 *billion* non-iPhones. Of course, we know there are only 250MM non-iPhones in the U.S., so there is no way to achieve the same effective reach inside the U.S.
According to AppShopper.com, there are already over 17,000 titles in the App Store–the largest category of which are games.  Noting that these apps have all appeared within the last six months, and looking at recent indications that Apple plans to take things to the next level by bringing a Premium Games area to the App Store, the future of mobile gaming–of iPhone and iPod touch gaming–is looking rather bright, indeed.