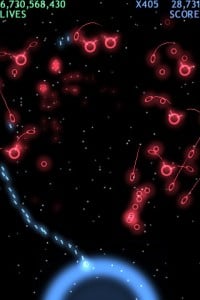 It's no secret that we're big fans of John Kooistra. He's the developer behind Blue Attack!, a highly recommend $1.99 iPhone shooter.
Blue Defense! [App Store, $0.99], however, was the title that started John's journey into iPhone gaming development. When we discovered the game in November, we were pleasantly surprised by the simple but effective mechanics of the game:
John Kooistra's Blue Defense! is a $0.99 iPhone shooter with relatively simple graphics and no sound. The controls of the game, however, are remarkably well suited to the platform and already feels like a "classic" iPhone game.
A just-released 2.0 version adds a number of nice touches which makes the game a more complete experience and also adds a significant amount of replay value.
First, music and sound effects have been added. We tend to be sticklers about the inclusion of music and sound, but we forgave the initial release due to its low price point. But that's no longer an issue.
A more notable inclusion to the game, however, is the addition of a level select with individual level stats and medals. For some, one issue with the original game was that it played like a traditional arcade game. You start on level 1 and played until you died. To play again, you start again at level 1. While there is nothing inherently wrong with this traditional setup, it can take a much longer to get enough practice to advance your skills. The new level select, however, allows you to keep going back to the same level until you perfect it. If one level's too hard, you can just skip to the next one. Individual stats are kept, so you can take your time to defeat them all. Of course, the traditional arcade mode is retained as well as an "expert" quick-start that lets you start at a higher difficulty.
This gameplay video is from the original 1.0 release, so it does not demonstrate the new sound or music, but does give you an idea of the gameplay:

At $0.99, this game has always been a great value, but with the new additions, it's certainly a "must get" if you have any interest in the genre.
App Store Link: Blue Defense!, $0.99