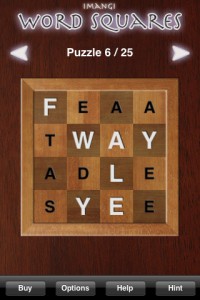 Imangi Studios has recently released a Free Lite version [App Store] of their word puzzle game Word Squares.
Word Squares is a game that should appeal to Crossword puzzle fans. The game presents you with a grid of letters where each row and column form a valid word. Your job is to simply unscramble the words by dragging and dropping the letters into place. A few letters are given to you in their proper position to help you get started.
The Lite version offers 25 hand puzzles while the full version offers over 1000 and is only $0.99.
This developer video shows how the game is played:
App Store Link: World Squares, $0.99