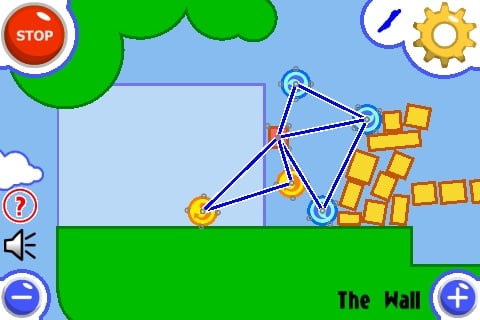 inXile Entertainment (the developer of Line Rider) has released an iPhone version of their popular Flash game Fantastic Contraption [App Store].
The game plays similarly to other physics based games such as Crayon Physics but involves more resources to build a machine to propel the target to the goal:
In Fantastic Contraption you build a machine from simple parts to move objects to a goal. There's physics involved but don't worry, just press "Start" and watch what happens! The simple controls and step-by-step tutorial will have you building fantastic contraptions in no time!
The iPhone version includes a build-in editor that allows you to both upload your levels and download new levels from around the world.
The developers have provided us with this trailer video:
You can try the web version for free at FantasticContraption.com. Some initial impressions from TouchArcade forum user Kamazar have been very positive:
The game focuses on getting this pink wheel into the goal area. You do this by building contraptions. There are wheels, both power and unpowered, and water and wood rods.
…
The ability to download levels in awesome. Haven't tried it yet, but the potential…

… if you're the puzzle/physics type of guy, go for it. It's near perfect. All that I'd like in the next update are improved graphics and the undo button.
There is an ongoing discussion thread.
App Store Link: Fantastic Contraption, $2.99 (introductory price, normal price appears to be $6.99)