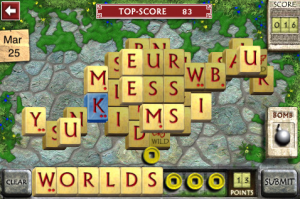 Gameblend Studios has recently released WordJong Daily Challenge [App Store], an iPhone version of their popular Nintendo DS and Wii word puzzle franchise.
WordJong presents players with a Mahjong solitaire-style board covered with lettered tiles.  Players pick tiles to forms words which are then removed from the board, revealing tiles below.  The bigger the word, the higher the score.  Gold coins and bomb power-ups can be collected along the way.  A soothing, ethereal soundtrack plays throughout.
Features listed by the developer:
Unlimited Play: Each day brings the fresh challenge of a new, unique puzzle! Completed today's puzzle? Pick a previous day on the calendar to play or replay any of the hundreds of other puzzles available!
Zodiac Characters: Try to beat the scores of the WordJong Masters! Each of the seven characters has his or her own personality and play style, representing a different difficulty level ranging from easy (the Rabbit) to hard (the Dragon).
High Score Tracking: Compare your daily high scores with friends and family!
Awards: Complete 9 challenges to earn a beautiful butterfly collection!
Huge Dictionary: WordJong features a 100,000+ word dictionary!
Have a look at a demo video of the Nintendo DS version.
WordJong for the DS, which is similar to the iPhone version, has generally received high marks from review sites.
App Store Link: WordJong Daily Challenge, $4.99