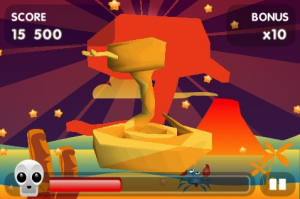 Finnish developer Secret Exit has just released SPiN Lite [App Store], a free version of their 3D puzzle matching game SPiN [$4.99, App Store], that features only the 60-second Minute Rush challenge mode from the original.
SPiN is a shape matching puzzle game that makes good use of the iPhone's multi-touch interface to spin 3D objects around in order to match it up with the silhouette shown.  3D rotation is accomplished using left/right and two-finger rotation gestures.
SPiN Lite features as listed by Secret Exit:
Multi-touch rotation controls
10 difficulty levels with 100 stages
11th difficulty level for the insane
Unlockable trophy objects
4 different game modes
Chain Combos and Bonus Multipliers!
100 different 3D objects
Streaks, stars and flashy stuff!
Unique and stylized visual design
The original SPiN is the winner of the IGN Editors' Choice award, the GDC Most Innovative Mobile Game award, and the Forum Nokia Pro Best Mobile Game award.  And with good reason.  We found SPiN to be a highly innovative title that's very well suited to the iPhone and worthy of more attention than it's getting in the App Store.
App Store Link: SPiN Lite, Free