In going through a backlog of our game submissions, here are a number of $0.99 games that may be of interest. Some of these have become forum favorites and we've linked to the discussion threads were applicable.
It should be noted that several of these are on "holiday sale" so prices may go up around the New Year.

Burn Ball – A polished version of Qix in which the goal is the block off 75% of each screen without getting hit by the enemies. The game is set in a comic book storyline in which you need to save the planet from Dr. Gray and his robots.
App Store: Burn Ball, $0.99
Lite version: Burn Ball Lite, Free

Flexis – A physics-based puzzle game that seems to be a cross between Tetris and Bejeweled. The shapes fall as flexible pieces that can be bounced, thrown and rotated with your finger. I still can't figure out if it's good idea or not, but it certainly is eye catching. Fortunately there's a Lite version to try it out yourself.
App Store: Flexis, $0.99
Lite version: Flexis Lite, Free

Jelly Blocks – Puzzle game in which you move around the "jellies" until you get all the like-colored jellies stuck together. 96 levels in the full version and is surprisingly fun to play. Puzzle gamers may find this worth picking up. A lite version is also available.
App Store: Jelly Blocks, $0.99
Lite version: Jelly Blocks Lite, Free
Discussion Thread: Link

Sneezies – Cute chain reaction game in which you touch the screen to drop a burst of sneezing powder into a field of floating "Sneezies". The one will sneeze (popping its bubble) causing a chain reaction with nearby Sneezies. The goal is to pop a minimum number of Sneezies per level. It's very similar to a Flash game called Boomshine which can be played online for free.
App Store: Sneezies, $0.99
Discussion Thread: link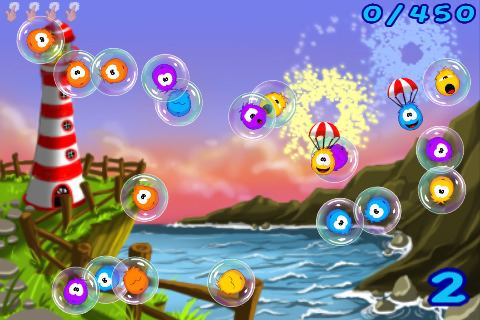 Das Boot – A challenging game in which you control a ship that must sink the enemy submarines. Move your shift left and right with the accelerometer and drop your depth charges. Unique to the game, however, is that you can only see the subs and their torpedos when you trigger your sonar. The sonar takes a little time to recharge, so you have to play blind for much of the time.
App Store: Das Boot, $0.99
Discussion Thread: link