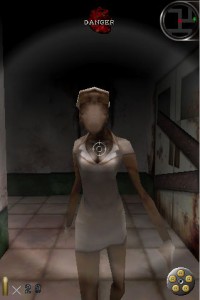 Konami's Silent Hill has made it to the App Store… at least in European stores, for now [App Store]. U.S. customers will have to wait until it appears in the U.S. store, which we would expect to happen shortly.
Silent Hill – The Escape is a first person action game set in the mysterious surroundings of Silent Hill, the cursed town where your worst nightmares become reality. Ready your gun under the guidance of a dull, flickering flashlight. Encounter fearsome creatures only found in Silent Hill and fight your way through 10 threatening environments
Konami recently announced they would be brining a number of titles to the iPhone including Silent Hill, Dance Dance Revolution, and Metal Gear Solid.
App Store Link (Europe Only): Silent Hill, £3.49
Thanks, ipressbuttons
Update: iPhoneGameNetwork offers this gameplay video, and commentary:
Overall it's a pretty average game with some good presentation and graphics, but the controls and lack of depth disappoint.