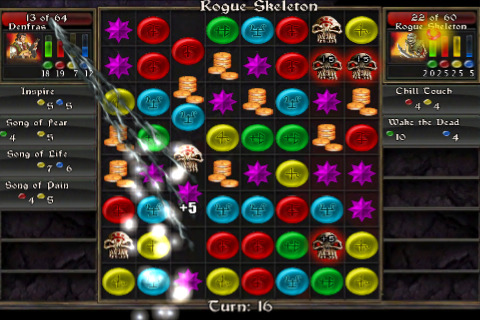 TransGaming, Inc. has released Puzzle Quest: Chapter 1 – Battle of Gruulkar [App Store] for the iPhone early this morning.
Puzzle Quest was first released for the Nintendo and PSP in 2007 and was very well received. The game combines role-playing with strategy and puzzle elements.
Jump into immediate head-to-head puzzle action or embark on a series of adventure filled quests, growing your magic and hero's powers toward the ultimate battle with Gruulkar, leader of the Orcs. This award-winning game is perfect for casual and hard-core game enthusiasts.
Quests are typically completed by defeating opponents in one-on-one match-3 puzzle battles.
The developer claims the game will offer over twenty hours of storyline play, but this represents the first chapter of a trilogy of iPhone titles that make up Puzzle Quest Challenge of the Warlords. You will be able to bring your characters forward into the future chapters which will become available "soon".
This "episodic" delivery of content is one that we have seen with the Toy Bot Diaries and represents a way for developers to deliver a larger gaming experience in more affordable segments.
App Store Link: Puzzle Quest: Chapter 1, $9.99