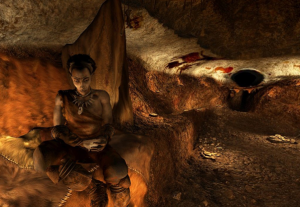 French Mac development group Coladia is in the process of creating an iPhone version of their Mac release Secret of the Lost Cavern, a prehistoric point-and-click adventure set in 15,000 B.C.
Delve into a world of exploration and intrigue as you embark on a Stone Age quest filled with puzzles and mystery. Use your wits and powers of observation to survive the vast wilderness as your journey leads you to one of mankind's forgotten wonders.

Experience your adventure through the eyes of Arok and meet many fascinating characters. Contend with the wild world where fishing, hunting, gathering, and mysterious shaman ceremonies are all part of the struggle for survival as you follow the path of your mentor and work with him to recreate the paintings of the renowned Lascaux Cave.
The game involves fishing, hunting, cave painting, and mysterious shaman ceremonies.  Coladia tells us that the overall gameplay and each of the game's puzzles were redesigned from the ground up to take full advantage of the iPhone's touch control.  As well, the 3D graphics and videos were optimized for superior quality on a mobile device.
See the trailer video for the Mac version of the game:
Gamespot reviewed the original PC version of Secret of the Lost Cavern back in 2005.  A free demo download of the Mac version is available from Coladia's website.
The iPhone version is expected to hit the App Store in Q1 2009.