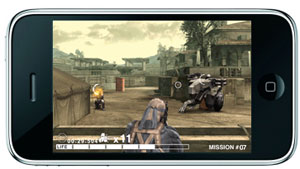 1UP.com has some excerpts from an interview with the Metal Gear Solid director and Metal Gear Solid Touch creative producer about their plans for the upcoming title for the iPhone and iPod Touch.
Perhaps most disappointing for Metal Gear fans is that the game is a rather simplified version of MGS.
The development team's first impression was that MGS has to be all about stealth, but you can't play a quick game on the train if it's about that. It's a little much to ask of someone trying our games for the first time. That's why we made it a simple touch-screen shooting game.
The developers are fans of the iPhone and iPod Touch platform but are trying to design a game suited for the platform. They describe MGS Touch as "nothing more than an entrance for us" and expects that it may introduce those who are unfamiliar with the Metal Gear Solid franchise.
IGN confirms that the mechanics of the game will boil down to simple tap-shooting.
As revealed early today, you slide your finger on the screen to move Snake's view around. You then tap to make Snake fire. Zooming in and out make use of pinch gestures, where you place two fingers on the screen and slide them together or apart.

As you might have figured out, you don't move Snake about the stages like you did in Metal Gear Solid 4. There is more to the game than just shooting, though. At the end of each stage, you'll be treated to still shots that push the story forward.