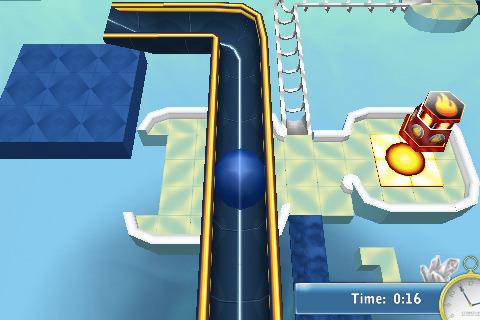 Publisher-X's newly released HydroTilt [App Store] offers an impressive accelerometer tilt game reminiscent of Marble Madness or a simplified Archer Maclean's Mercury.
The game offers familiar tilt controls to control a bead of water on suspended platforms. The goal of each level is to find the a cold cube (which turns your drop of water into a ball of ice) and roll it to the goal. The game adds a number of additional obstacles, ramps and challenges to make the game far more interesting than your typical tilt-balance game.
Special areas will turn your water into an ice ball or water vapor that can be required to navigate certain portions of the level.
Players will need to use these different forms to solve various puzzles, such as freezing their droplet to roll over a switch in order to trigger a bridge, or use the liquid state to connect electrical wires to activate a freezing machine.
The game includes 25 standard levels and 5 bonus levels. Additional goals of fastest time and collecting crystals (presumably to unlock bonus levels) add significantly to gameplay. Levels seem to quickly ramp up in difficulty to the more intricate designs seen in the embedded video. In later levels, decisions need to be made to trigger switches and convert from one state (gas, solid, liquid) to another to be able to complete the level.
Accelerometer controls seem well tuned from the get-go and not particularly frustrating (well, at least, not any more than any tilt-based game could be).
The game is on sale for its introduction at $2.99 but will go up to $4.99 on January 5th.
For the purposes of filming, I did not even attempt to collect the crystal from the more difficult level, but you can see it on the overview map.
Game Details

Name:

HydroTilt (v1.0)

Price:

$2.99 [Buy]

Developer:

Publisher X

Size:

8.6 MB

Device:

Tested on iPhone 3G
HydroTilt is a fun and well polished balance/rolling game well suited for the iPhone's accelerometer. The use of liquid, solid and gaseous forms and intricate level design add significant challenges to the gameplay.