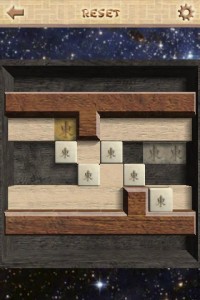 Munkyfun recently released their first iPhone game called Ivory Tiles [App Store]. Priced at only $1.99, this is a unique iPhone puzzle game that is particularly well designed and well suited for the platform.
The game is a puzzle game in which you must line up a tile or tiles to their appropriate location. The tiles will move in the direction you tilt (or tap) until they reach an obstacle. Through creative use of the obstacles and tiles, you frequently need to reposition the tiles to get them to slide into the appropriate spaces.
Ivory Tiles includes 80 progressively more difficult levels. Features include:
Over 80 hand crafted levels to pit your brain against.
Progressive difficulty means kids can have fun playing the early stages.
Supports both tilt and touch input control.
Beautiful mahogany boards and ivory tiles rendered in realtime 3-D.
Soothing authentic traditional Chinese music arranged by "Silk & Bamboo Ensemble" and "Cheng Yu"
Personal high scores tracked for each puzzle. Achieve Zen when you take it a step further and reach the "perfect" score.
What's most striking about the game is its level of polish and the fact that it really feels like an iPhone game with the appropriate use of the accelerometer for sliding. For those who prefer, touch control is also available.
As always, the gameplay video shows it best. Note that for the purposes of filming, the tilt sensitivity was turned up very high. It can be disabled completely if desired. (low resolution version also available):
App Store Link: Ivory Tiles, $1.99