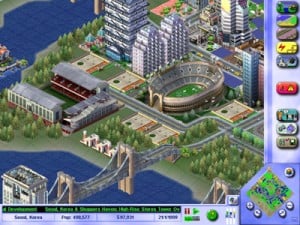 PC version screen
"SimCity for the iPhone may ruin my life (in a good way)."  So says MG Seigler of VentureBeat.  He had a chance to spend some time with Electronic Arts' upcoming iPhone version of its hugely popular city-building simulation game.
He liked what he saw.
I got a chance to play a near-complete version of it today; it looks great. Fans of the series will recognize the SimCity 3000 look and feel, but the addition of touch screen controls makes sense for things like zoning (creating a certain type of building zone). Using the multi-touch capabilities of the iPhone to do things like zooming in and out of your city also makes the game a good fit for the device.
Siegler points out that the iPhone demo exhibited loading time issues, but EA indicates they'll be ironed out by launch.
SimCity for the iPhone is expected to make its App Store debut in December for $9.99.