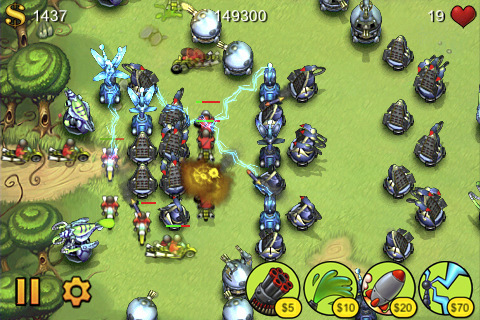 Subatomic Studios has released version 1.1 of Fieldrunners which is now in the App Store. This point upgrade brings a number of new features to the popular iPhone game:
Sounds and music are here! This update includes sound effects and a Fieldrunners theme song.
Added a new map that requires new strategies.
Added the highly requested Endless gameplay mode!
Introduced two new fieldrunners. Watch out, one is invulnerable to goo!
Added a grid to help place towers.
The most recently obtained high score is now highlighted.
Enhanced the visual quality of the title screen and the maps.
Improved the user interface.
A number of bug fixes and options have also been added. So if you have it, upgrade now. If you don't have it, well, you should. We consider Fieldrunners to be one of the best iPhone games available. Our first look review of it provides a gameplay video from the 1.0 version.
App Store Link: Fieldrunners, $4.99