It's always a little strange to announce upcoming announcements, because inevitably, the actual announcements arrive right after posting these articles. That being said, there are a few major announcements coming this week, so stay tuned.
Rolando Release Date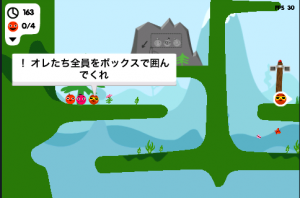 Ng:moco tweeted that they are preparing to announce the release date for Rolando as well as some of their other upcoming titles next week. We have an unnatural interest in Rolando — even before ng:moco took over publishing of the game.
Other tidbits: it's just been localized for Japan, and here's a brief description of gameplay:
It's a world of cute, round creatures who are under attack by darkness. By tilting the iPhone, you roll them through a landscape of hills, mountains, houses. When they hit a river, you can drag a finger across the screen to draw a bridge.

"Turns out in this game, their deity is the finger, which is the player," Young says. "So they sort of speak to you and say, 'Finger! Finger! Help us!' "
Fieldrunners 1.1 with Sound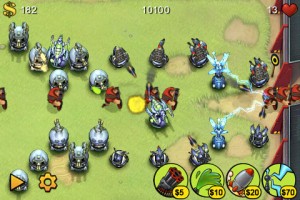 Subatomic Studios has submitted the update to Fieldrunners [App Store, $4.99] to version 1.1 on November 11th. That means we should see the release any day now. Version 1.1 brings:
Sound FX from a well-known sound designer!
New map with gameplay and visual enhancements
2 new fieldrunners
We provided an early review of Fieldrunners when it was released, but frowned upon the lack of sound. But we have to now admit that even without sound Fieldrunners is one of the (if not the) best game(s) on the iPhone.
Aurora Feint II
We weren't sure if this was authorized for pre-announcement, but Pocketgamer already posted so it's out there.
Aurora Feint II will be officially announced next week. The new version is described as an MMO with new features that allow "asynchronous" play not yet seen on the iPhone. We'll be getting more details, screenshots, etc… next week.
The original Aurora Feint [App Store, Free] was one of the very first iPhone games that we looked at and highly recommended.