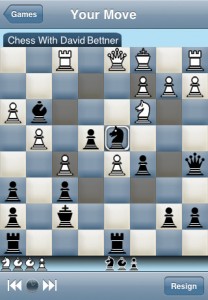 Newtoy Inc's new Chess game called Chess With Friends [App Store] is now available for free (normally $4.99) for the next 1000 downloads.
We're not sure how they're tracking the downloads so closely, so you should probably download first, ask questions later:
Chess With Friends IS FREE for the next 1000 downloads! Our servers are handling the first round of players – so it's time to unleash the horde! Download Chess With Friends now, FREE for a limited time, and start enjoying the best multiplayer experience available on the iPhone and iPod Touch today!
Chess With Friends is a multiplayer chess game that allows you to play Chess "asynchronously" against other across the world. Once you make a move, the other player will see your move the next time they log into the application.
App Store Link: Chess With Friends, Free (normally $4.99)