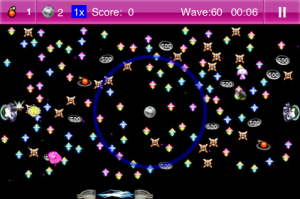 In 1987, Casady & Greene published a game by Patrick Buckland known as Crystal Quest for the Apple Macintosh. Ths first game to support color on the Mac, Crystal Quest was a simple affair where the player used the mouse to move a sphere around the playfield, dodging enemies and collecting crystals in order to unlock an exit gate a the bottom of the screen.  While a very basic game, it worked very well with the mouse and offered some rather frantic gameplay in the higher levels.  Anyone who used a Mac extensively in the late '80s surely encountered this title and it likely holds a special place in his or her heart.  Crystal Quest was later ported to the Apple IIgs, Commodore Amiga, Nintendo GameBoy, and Palm OS devices.  Much more recently, an updated take on the original appeared in the Xbox Live Arcade, published by Buckland's own Stainless Games (who announced iPhone support back in July).
And thanks to Hands-On Mobile's recent App Store release [link], the iPhone can be added to the list of ports of of this classic action game.
Quite similar to the Xbox Live remake, Crystal Quest for the iPhone offers both a modern play mode, featuring updated graphics and audio as well as mild gameplay enhancements, and a classic play mode that stays true to the original's simple color graphics and controls.  The most notable gameplay enhancement in the modern mode is the ability to shoot at enemies in any direction by tapping in the enemy's vicinity.  The classic mode only allows shots to be fired in the direction that the sphere is traveling, like the original mouse-controlled game.  The game's option screen allows the choice of accelerometer or swipe control (or both) as well as sensitivity settings for each.
While the mouse is probably the perfect control mechanism for this game, the iPhone's control systems do a decent job of approximating the feel of the original, especially the swipe control mode (which is shown in our demo video).
True fans of the original should find the $4.99 iPhone version much to their liking.  Those unfamiliar with the game: don't be fooled by the easy first levels–the pace quickly heightens and before long will be more than you can handle.  Crystal Quest is a classic that is worthy of a look.
Game Details

Name:

Crystal Quest (v1.0)

Price:

$4.99 [Buy]

Developer:

Hands-On Mobile

Size:

5.8 MB
Crystal Quest is a remake of the 1987 classic Mac action game, very similar to the recent Xbox Live remake from Stainless Games. It's simple "pick up the gem" action, but the pace quickly becomes frantic. Fans of the original should love this outing.