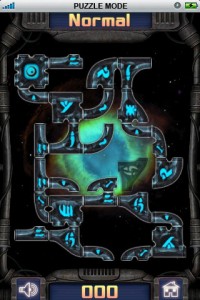 Last week, Daybreak Interactive released their first iPhone game called Paradox 3000 [App Store].
The company describes themselves as experienced game developers dedicated to creating both apps and games "that rock your socks off". And their first entry appears to be a great effort.
At its core, the game is a variant of Pipe Dreams in which your job is to create connections between pieces so that "water" can flow from one to the next. Paradox 3000 is a futuristic take on this basic formula and tweaks the gameplay a bit.
The goal is to get the energy source (top left piece) connected throughout the board. The game is wrapped in a sci-fi premise that you are a United Space Federation Pilot (in the year 3000) that uses this game as a training exercise. The game has a variety of pieces that you can rotate by tapping on them. By changing the orientation, you can connect the pieces together to get energy flowing across the board. Unlike traditional Pipe Dreams games, there is no real "flow" of water/energy that you need to keep ahead of. Instead they offer two different types of gameplay: "Puzzle" and "Arcade".
Puzzle mode allows you to choose "Easy", "Normal", and "Hard" difficulty levels and solve different boards sequentially. Specific boards can be played again or passed to your friends by simply typing in the board's "code" which is listed as a number. Puzzle boards are not timed and you can simply make your through various boards (3000 in all) at your leisure.
Meanwhile, Arcade mode offers a fast paced variant which requires you to solve the board within a certain amount of time. If you can't solve it before time runs out, a new board appears. If time runs out on you three times, the game is over. I found Arcade mode to be very challenging but it kept me coming back.
Overall, a very well polished game, with plenty of gameplay value and great music/sound effects. This gameplay video shows both puzzle and arcade modes:
Game Details

Name:

Paradox 3000 (v1.0)

Price:

$2.99 [Buy]

Developer:

Daybreak Interactive

Size:

14.2 MB
Paradox 3000 is a high quality variant of Pipe Dreams in which you rotate individual pieces to connect the entire board together. 3000 levels, great sound/music, and Arcade mode provide a lot of value for this highly polished game.