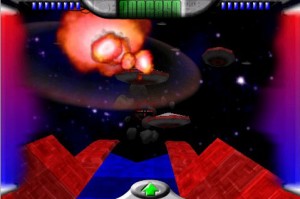 Venger has dropped in price from it's original $6.99 all the way down to $0.99 [App Store]. The dramatic price drop also precedes a number of new features promised (but not yet available_ by the developer including:
Guided missiles
Awesome new boss
Mines and asteroids can now be destroyed
Auto calibration of controls on game start
Revised boost button
Phase modulated UFO shields (use matching laser colour to breach UFO shields)
At the time of our original review we found Venger to be one of the best space shooters available for the iPhone.
Our gameplay video shows version 1.0 (current version is 1.0.1)
A free Lite version [App Store] also remains available.