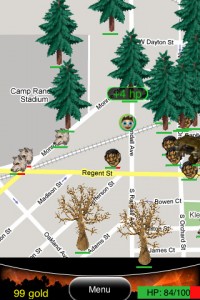 PerBlue has launched Parallel Kingdom [App Store] this morning for free. Parallel Kingdom is a location-based role playing game that we've previously discussed. The game is a unique in that it uses your geographic location as the game's landscape:
Parallel Kingdom is a role playing game that uses GPS (or WiFi locate) to overlay the virtual world on top of the real world. In the Age of Exploration, there will be items, creatures, and other players in the world to use and fight with. Enjoy unique creature personalities, items to upgrade, players to chat and team with, and a global player ranking list to see how you compare to your friends.
The first version of the app is being distributed for free.
App Store Link: Parallel Kingdom, Free