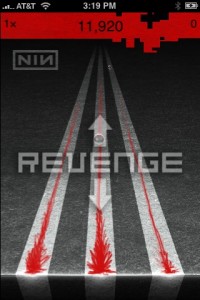 Tapulous has released the previously announced Nine Inch Nails version of Tap Tap Revenge [App Store].
The first-ever special edition of Tap Tap Revenge, featuring 16 tracks from the last two Nine Inch Nails albums, The Slip and Ghosts I-IV. Put your rhythmic skills to the test, tapping and shaking your way through 16 tracks hand picked by Trent Reznor himself.
The new version contains a difficulty level unlocking and a Nine Inch Nails theme.
Tap Tap Revenge is the iPhone version of Dance Dance Revolution or Guitar Hero and gameplay involves tapping the screen to the music. The premium version costs $4.99 while the original version of Tap Tap Revenge remains free [App Store]
App Store Link: Tap Tap Revenge: Nine Inch Nails Edition, $4.99