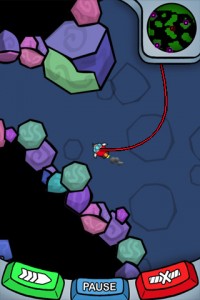 iPhone developer Niklas Wahrman has dropped the price of his Asterope [App Store] to Free. So for a limited time, you can get the full game for no charge.
The game normally costs $2.99 and offers a unique gameplay in which you launch a grappling hook on passing rocks in order to change your direction.
While the gameplay is unique, we're not sure if it's enough to base an entire game around. The game, however, has been well reviewed by an Pocketgamer.co.uk and is certainly worth giving it a try for free.
The gameplay video gives you and idea of how the game is played. As an extra bonus the Asterope developer has posted extensive details about the game's development process.
App Store Link: Asterope