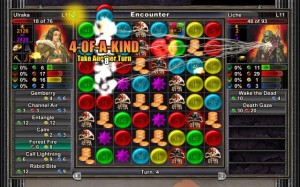 Transgaming announced that they would be delivering Puzzle Quest: Challenge of the Warlords to the iPhone and iPod Touch.
Puzzle Quest: Challenge of the Warlords for the iPhone and iPod Touch portable devices builds on an existing relationship between TransGaming and D3Publisher. "The iPhone and iPod Touch are natural extensions to TransGaming's existing Mac business and we are focused on bringing only the highest quality content to these devices. Puzzle Quest is an outstanding franchise and we have no doubt this game will have incredible appeal to a broad range of gamers", commented Vikas Gupta, CEO & President of TransGaming. "We have established a leadership position in bringing top tier games to Mac and we are now setting our sights on the Apple mobile market opportunity."
Puzzle Quest combines elements of a role-playing game with puzzle mechanics.
The game was originally published for the Nintendo DS and PSP in early 2007 and was well very well received.
Embedded is a commercial for the PSP version:
Thanks Adam and Ross