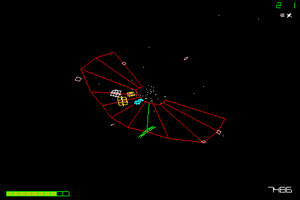 Rude Scotsman has released an update to the iPhone Tempest-alike retro shooter Vector Blaster [$2.99 App Store].
Vector Blaster v1.1 features the following changes:
Select between horizontal and vertical input modes
Adjust the input sensitivity
Toggle music on / off
Toggle tutorial on / off
Explanation added for game pause behavior
Vector Blaster is basically Tempest for the iPhone.  And if you don't know Tempest, then you're missing out.
Well, it's Tempest, with a few notable differences.  Tempest is a 3D-ish "tube shooter" where various enemies jump onto a segmented tube and ride the segments out towards the rim, which is the domain of the player's claw-shaped ship.  Tempest's tubes of various shapes (one per level) are stationary and the player's ship runs about it by way of a rotary control.  In Vector Blaster, the ship is stationary and a touchscreen virtual rotary controller drives the rotation of the level around it.  It feels pretty nice–a bit more "active" than Tempest.
We took a close look at Vector Blaster earlier this month.