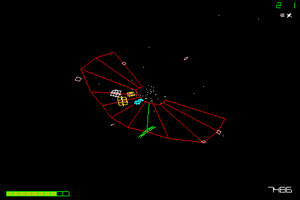 Retro gaming fans take note: mobile developer Rude Scotsman has released an iPhone port of their handheld titleVector Blaster [App Store] through the iTunes App Store.
Vector Blaster is basically Tempest for the iPhone.  And if you don't know Tempest, then you're missing out.
Well, it's Tempest, with a few notable differences.  Tempest is a 3D-ish "tube shooter" where various enemies jump onto a segmented tube and ride the segments out towards the rim, which is the domain of the player's claw-shaped ship.  Tempest's tubes of various shapes (one per level) are stationary and the player's ship runs about it by way of a rotary control.  In Vector Blaster, the ship is stationary and a touchscreen virtual rotary controller drives the rotation of the level around it.  It feels pretty nice–a bit more "active" than Tempest.
In Vector Blaster, enemies as well as bonus items (energy, dual shots, etc.) ride the borders of the segments up to the rim (not the middle, as in Tempest).  If an enemy makes it out to the rim, a unit of energy is depleted from the player's ship and a section of the rim is temporarily destroyed, limiting the ship's travel.  When all energy units are drained, a life is lost.  The overall goal is simple: destory everything and move to the next level. It's basic, it's fast paced, and it's fun.
The current v1.0 release, as the YouTube video demonstrates, has a glitch that surfaces from time to time between levels where, without any user prompting, the game pauses, requiring a tap to resume.  Very likely this will be addressed in a near-term update.  [ UPDATE: It turns out this is not a bug at all, but intended behavior.  The Rude Scotsman himself informed us, "What happens is the game automatically pauses when you stop touching the screen. When my friends and I played the game during testing, we always kept our left thumb on the screen, so the auto-inactivity pause thing was never an issue for us. What I'm seeing now is when some people play the game they release their thumbs for a while and the game pauses."  Given the confusion, the Scotsman intends to change the behavior in an upcoming update. ]
Vector Blaster has a strong retro feel thanks to the simplistic graphics and original soundtrack that sounds as if it were generated on an 8-bit Commodore 64 (which retro fans will enjoy but other gamers may find less than ideal).
Granted, I'm very likely a bigger Tempest fan than the average iPhone gamer, but I don't feel my judgement is clouded when I say that Vector Blaster, a $2.99 download from the App Store, is solid shooter fun.  If that sounds appealing despite the lack of lavish graphics, I recommend giving it a go.
Game Details

Name:

Vector Blaster (v1.0)

Price:

$2.99 [Buy]

Developer:

Rude Scotsman


Size:

0.6 MB
Vector Blaster is basically Tempest for the iPhone.  Fast action, simple graphics, basic gameplay.  If that sort of retro arcade shooter action is your thing, then Vector Blaster is likely worth a look.