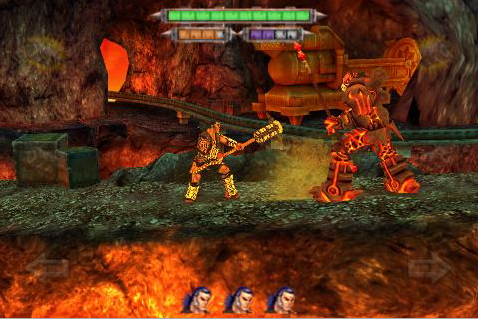 Ever since Kroll was demoed at Apple's Worldwide Developer's Conference, we've been looking forward to Digital Legend's 3D adventure game. The teaser video was quite impressive but the gameplay was a bit of a mystery.
We've since been able to spend some time with the game and while we found it to be one of the most visually appealing games on the iPhone, the actual gameplay is a bit lacking. In many ways, it reminds us of our experience with Star Wars: The Force Unleashed. Both games offer a high level of polish with impressive visual effects, but gameplay is a bit too simplified and short for our taste.
In Kroll you play the hero in a side-scrolling 3D environment. The objective of the game is to defeat your enemies across 3 stages to "learn the secret behind the legend of Kroll". The gameplay, however, is quite simple. Virtual buttons on to the left and right of the screen allow you to move forward, quick swing and hard swing in either direction. There is no jumping. You are either moving your character forward/backward or swinging at your enemies. There is a special attack that can be invoked at times by shaking your iPhone.
Levels are rather short and there's simply not enough of a feeling that you are actually participating in the game. At the end of each stage, there is a "boss" to fight. Here, the game trades off visual effects for gameplay. The boss fights are essentially long cinematic cut scenes. What decides if you win or lose the fight simply depends on tapping on the skull icon that appears on screen. If you are quick enough to tap on the fleeting icon, the cut scene branches in your favor.
The game does offer 3 levels of difficulty with the most difficult level "locked" initially. The developers estimate a total game time of one to two hours.
With its short game time and simplistic gameplay, we find it hard to recommend this title at its $7.99 asking price. Overall, the game provides an impressive glimpse at the level iPhone gaming could achieve, but the gameplay doesn't quite match up to the visuals.
This gameplay video provided by Pockergamer.co.uk shows the completion of the first level of stage 1 and a good bit of level 2. There are 3 stages total with 3 levels each.
Game Details

Name:

Kroll (v1.0.3)

Price:

$7.99 [Buy]

Developer:

Digital Legends Entertainment

Size:

82.8 MB
Kroll is perhaps one of the most visually impressive games available for the iPhone. But as a total package, its simplistic gameplay and short play time prevent us from recommending this title at its $7.99 asking price.