One of the games we spoke of in our recent WWDC games coverage was Kroll from Barcelona, Spain-based Digital Legends.  A side-scrolling, 3D fantasy adventure game, Kroll takes full advantage of the iPhone's unique control system; players jump with a jerk of the iPhone, thanks to its accelerometer, and use touchscreen controls to activate weapons and otherwise move about the game world.
While Digital Legends is an award winning development house with PC, console, and smartphone games under its belt, the iPhone was a new platfrom for the team.  Impressively, the demo shown during the WWDC keynote was put together in under two weeks.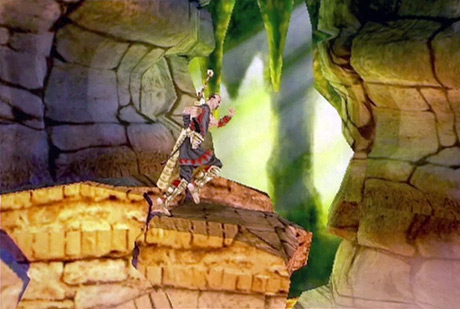 With this first iPhone outing, the company is being particularly sensitive to its gaming audience and the context in which players will be enjoying the title.  Macworld spoke with Digital Legends' CEO Xavier Carrillo Costa, who commented,
"If you're waiting for your latte, probably you want to play and have a rewarding two-minute experience.  So iPhone games need to be compelling, easy to play, and graphically very appealing, but at the same time having enough depth to play for an hour while you're commuting."
Kroll is not expected to debut until September, giving the Digital Legends team time to evolve and refine the gameplay to as ideal an iPhone gaming experience as possible.  The company hopes that Kroll is the first in a long line of titles it will be developing for Apple's mobile platform.
"The Mac community is a very close community," said Costa. "It's very strange for me to come here [to Moscone West] and not know anyone, compared to the Game Developers Conference, where I can't walk ten feet without seeing someone I know. But a lot of people who are outside the traditional Mac market and are watching and interested in what happens with iPhone."
Kroll will start life as an iPhone exclusive and, depending on its success, may be ported to various other platforms.  We can't wait to get our hands on the finished product.