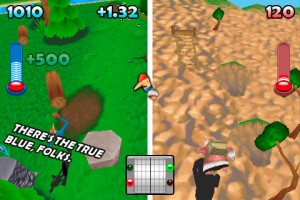 IUGO, the makers of Toy Bot Diaries, have released their second iPhone game to the App Store. Shaky Summit [App Store] introduces an original game concept to the iPhone. The game is described by the developers:
Rolling boulders, slippery ice patches, cave floods and volcanic fire storms hail down on you as you climb the 3D race to the Shaky Summit. Touch the Stamina Bar for a short burst of speed or faster recovery and shake the mountain to reach the peak before your opponent. Strategize your climb accordingly so you don't accidentally help your opponent through the debris of Summit Island. With ten challenging climbs, fortuitous path hurdles and a multi-player mode, IUGO has created a title loaded with hours of game play fun. Decorate your character with gold, silver and bronze medals for each level of difficulty while jamming to your own playlist and collecting un-lockables.
When we saw the preview video of Shaky Summit, we weren't quite sure what to make of it.
As far as games go, it doesn't fit into any neatly defined category. The game involves you racing another climber to the top of a mountain. Your only controls, however, are the ability to invoke earthquakes with the touch of your finger and also providing short bursts of speed/recovery to your character (via the "Stamina Bar").
Invoking the shaking can cause obstacles to shift, which can help or hurt either character's climb to the top. The trick is timing them to your character's advantage. I think the best way to view the game is as a puzzle or strategy game. We'll have to spend more time with this game before making a formal recommendation, but it seems very promising.
This preview video provides an idea of gameplay (note: Stamina Bar is not in this version):

Shaky Summit is priced at $4.99 and is available in the App Store.