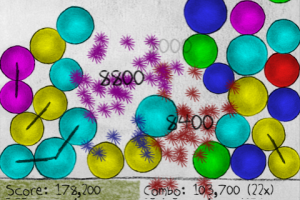 Earlier this month we reported that Howling Moon Software would soon be releasing ScribBall for the iPhone, a port of their existing Macintosh title of the same name.  ScribBall [App Store] has appeared in the App Store and we've spent some time with this latest color-matching puzzler.
As Howling Moon describes it,
ScribBall is an easy to pick-up puzzle game that's packed full of exciting and addictive gameplay. Players of all skill levels will enjoy the addictive gameplay and fun hand-drawn graphics as they vie to achieve ever greater scores and awards. The game uses realistic physics, so things roll around and tumble just how you'd expect. To keep things interesting, there are a number of special balls that may explode, call in a storm to mix things up, or jump.
The objective of ScribBall is to eliminate balls by creating like-colored groups of four or more.  This is done by tilting the iPhone (wildly) to slide the balls about and using tap-elimination to remove balls that are "in the way".  Be careful though…a status bar at the bottom fills partially with each tap-elimination, but drops with each match.  When the status bar fills completely the game is over.
ScribBall has a striking visual appearance; everything in the game looks convincingly hand drawn.  Sort of a Paper Mario kind of aesthetic.  This helps set it apart from the host of other color-matching puzzlers in the App Store, but not as much as the gameplay.  The tilt physics that affects the balls, along with the ability to tap-eliminate balls (with a penalty), gives ScribBall a sort of loose, fast-paced feel that's fun to come back to.  (Unfortunately, our video doesn't properly illustrate the fast pace of a typical gameplay session as there's no easy way to get a clear, close look at the screen while dramatically tilting the iPhone this way and that.  Have a look at the developer's video for a better feel of typical gameplay pace.)
If the sheer volume of color-matching games in the App Store hasn't completely put you off of anything to do with colors or matching or ball/gem/tile elimination, you might find ScribBall worth a look.
Game Details

Name:

ScribBall (v1.0)

Price:

$3.99 [Buy]

Developer:

Howling Moon Software


Size:

1.2 MB
ScribBall is yet another color-matching puzzler for the iPhone, true.  But its unique aesthetic and physics-based gameplay set it apart from the herd. It's fast-paced and fun to come back to.