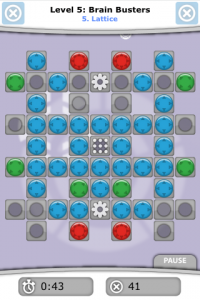 While there's been a lot of recent coverage of some of the big titles such as Star Wars and Spore, we don't want to neglect the games coming from smaller independent developers.
Moopf brings us a very nicely polished peg-jumping puzzle game called Hiqup [App Store]. The game is a fresh twist on the old peg-jump game (example photo) in which you try to eliminate as many pegs as possible by jumping over other pegs to remove them.
Those familiar with these games will understand the fun and frustration associated with the them, and Hiqup comes with 10 standard peg boards for you to play at any time.
Hiqup, however, takes this concept a step further and adds its own twist to the game with bombs, black holes, teleports, free jumps and special spaces that must be filled.
The developer provides this blurry video which doesn't quite do the game justice:
The app comes with 47 original boards and Gold, Silver and Bronze accomplishments for each level. Normally priced at $1.99, the game is on sale for $0.99 until the end of September. Tutorials get you up to speed quickly and the design has a wonderful aesthetic to it. Given the high quality of the game and the replay value, it seems a great value at $0.99.
App Store Link: Hiqup