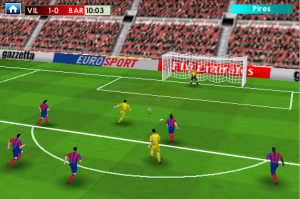 Yesterday, Gameloft's Real Soccer 2009 [App Store] appeared in the App Store and delivered the first 3D soccer sports game for the iPhone.
At $9.99, Real Soccer 2009 is priced amongst the premium App Store game offerings and, at first glance, appears to fit the bill. With great 3D animation and FIFPRO licensed players, soccer fans will likely be pleased by this ambitious offering.
The gaming controls are accomplished with an on screen directional pad and two on-screen buttons (A and B). Controls definitely take some getting used to and we're still exploring the subtleties of the game. There is a limited training mode that gets you started, but some of the game you figure out as you go.
We've put together this early gameplay video to give you a taste of the game. (It starts off well, with an early red card) An exhibition game is shown, but Cup, League and Penalty Kick modes of play are also available.
Note, we were still learning the controls when recording this video: