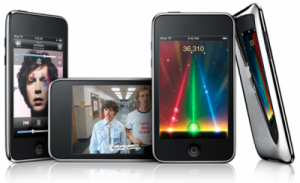 Steve Jobs took to the the stage during today's "Let's Rock" event and made a number of announcements relevant to iPhone and iPod Gaming.
iPod touch
Announcement most relevant to our readers was the unveiling of the 2nd generation iPod touch.  The new unit is thinner than the 1st generation unit and features a curved, stainless steel back shell, similar in shape to that of the iPhone (but much lower profile).
Features include:
2.1 firmware
Built-in speaker and volume control rocker
36 hours battery for music, 6 hours for video
"Genius" playlist
Integrated Nike+iPod support
The new units maintain the storage capacities of the 1st generation units: 8GB for $229, 16GB for $299, and 32GB for $399.
Clearly Apple is positioning the iPod touch as a solid gaming device.  During his presentation, Jobs called the iPod touch "the best portable device for playing games" and ran a new ad video that shows off several games and calls the device the "funnest iPod ever."  The addition of an integrated speaker and volume controls make the device much more suitable for mobile gaming, as well.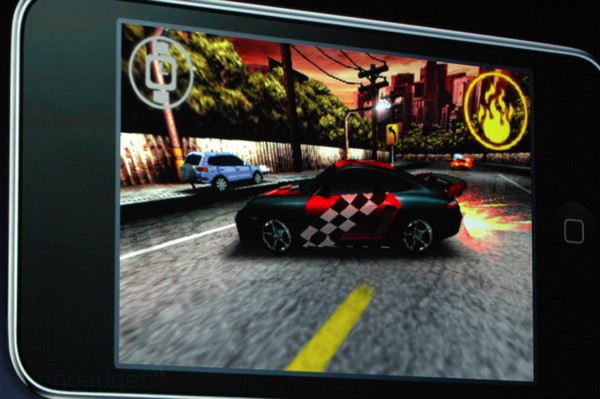 Need for Speed image from Engadget
Senior VP of Marketing, Phil Schiller, demoed three games at today's event: EA's Spore Origins, Real Soccer 2009, and EA's Need for Speed: Undercover (of which all save Need for Speed are now avilable in the App Store.)
Firmware 2.1 / iTunes 8
Jobs also promised that we would see the iPhone 2.1 firmware this Friday. Changes in the firmware are said to include:
Significantly better battery life
Fewer call drops
Bug fixes
Faster backups to iTunes
No App crashes
The issue of App crashing and general iPhone instability has been a huge issue causing a number of issues for App Store shoppers installing the latest games.
Meanwhile, iTunes 8 has also been released today. The changes found in it appear to be geared more towards it's use as a music jukebox, but we hope that some iPhone related changes may have made its way into this new version.
App Store
Jobs also revealed that customers had downloaded over 100 million applications from the App Store in 60 days and that there are currently approximately 700 games available for download.