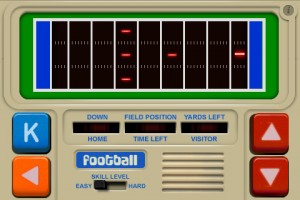 Fans of the old electronic football game will be pleased to learn that TouchGrove's LED Football [App Store] is now available on the App Store for $0.99.
The game is revives an old electronic handheld game from the late 1970s:
Feel the rush as your player moves down field. Watch out for Defense! They will take you down hard. Reach the end zone and you will hear the sweet sound of victory beeps. TOUCHDOWN! This is electronic sports at its best. The action of real electronic football at your fingertips and on your iPhone. See the LED display, so bright and hi-tech. Feel the molded plastic buttons created for fast-action. Hear the exciting Bleeps and Blips in full clear sound.
Gameplay video provided by the developer: