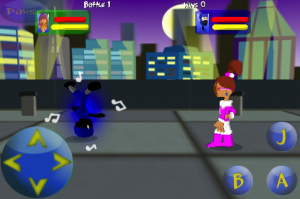 Solus Games' Funky Punch [App Store] which we reviewed just a few days ago has gone on sale for this holiday weekend. Until September 2nd, Funky Punch is available for $3.99 (down from $7.99).
Get funky with FUNKY PUNCH, one of the first fighting games for iPhone/iTouch. Run, Jump, Kick, and Punch your way to victory in this action packed, 3D fighter. Train and test your fighter in a tutorial mode, then go to battle against other funky phenoms using Special and Super Attacks and power up your fighter in battle through dynamic.
In our review, we found Funky Punch to be a fun and polished fighting game for the iPhone. Parts of the game seemed too easy, but seems particularly worth the $3.99 sale price.
Our review contains more details and a gameplay video.