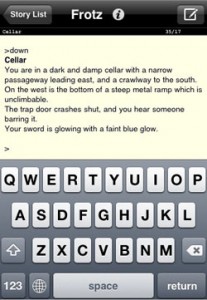 Frotz [App Store], the free interactive fiction application from Craig Smith, has been updated to version 1.0.1. The latest version addresses performance issues that the 1.0 version had suffered from. Changes include:
Performance improvements: Frotz no longer slows down during long sessions, and uses less memory.
Miscellaneous bug fixes and interface improvements
Added help for users new to Interactive Fiction.
Support for deleting bundled games from Story List
Support for transferring games with MobileFinder
Interactive Fiction, better known as "text adventures" was a popular game genre in the '70s and '80s when computers were text-based or offered, at best, very limited graphical capabilities. Frotz brings those adventures back to life on your iPhone. We previously reviewed this free application.