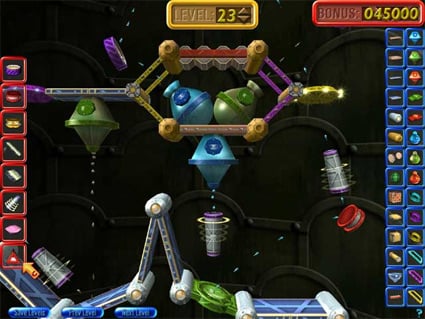 Pangea Software is running a seven day promotion for its award winning physics based puzzler Enigmo [App Store] for the iPhone and iPod touch.
Users who download Enigmo between 9am (PST) Wednesday, August 27th and 9pm Wednesday, September 3rd will take advantage of the promotional price of $5.99, temporarily down from the standard price of $9.99.
Enigmo, recently named as a 'Showcase Winner' at the Austin Independent Games Festival and voted "Best iPhone Game" at Apple's 2008 World Wide Developer Conference, is the ultimate 3D puzzle game for the Apple iPhone and iPod touch! To complete each level the player will need to manipulate various streams of flowing liquid so that the droplets can reach their destination. Liquids (water, oil, and lava) fall from droppers, and will bounce off walls in a visually stunning cascade. By moving various types of bumpers, sliders, accelerators, and sponges, the player diverts the flow of the falling droplets. The faster players complete each level the more bonus points they receive.
We first covered news of Enigmo back in March.
Pangea recently released a version update that allows Enigmo to download levels created by other users to provide an essentially unlimited pool of levels. Enigmo comes with 50 built-in levels.
[ via IGN ]