The developers at iControlPad have posted some updates to their site since we originally wrote about them back in May.
For those who don't remember, iControlPad is hoping to deliver an under $30 gaming control pad for the iPhone and iPod Touch. The latest prototype casing is shown here: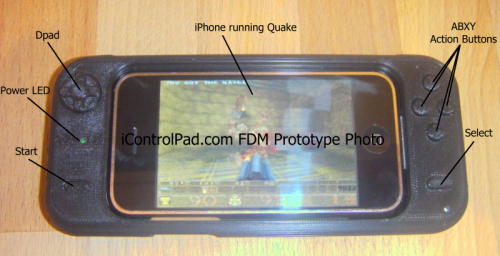 They say the color and texture will be glossy and smooth in the final production model.
iControlPad, however, may not be the only product in the works. I've also anonymously received an image of what appears to be another gaming pad design that is reportedly scheduled for testing in October. No other details were provided about who might be producing the device, but the image is published here for interest:
In either case, developers will have to specifically support these gaming pads in their apps to make use of these upcoming accessories.
Update: Additional photos and notes about the iControl Pad from Gizmodo:
Male connection and Female plug though connection
Digital directional pad, 4 Face buttons, 2 shoulder buttons and start and select buttons.
Access to all iPhone ports, buttons and the camera while in the iControlPad.
Full year guarantee