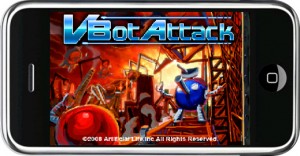 Artificial Life has announced an exclusive iPhone and iPod touch mobile game called VBotAttack. VBotAttack is said fully utilize the accelerometer, touch-screen, and offer 2D / 3D map landscapes and 2D / 3D vector graphics. The game involves both logic and physics puzzles to challenge the player's problem-solving skills.
In the VBotAttack iPhone game, players take the form of a VBot and must battle against the evil VBot ruler by eliminating enemy robots, solving physical puzzles and making tools from various physics-based items in order to be reunited with a kidnapped true love. In addition, players can configure other VBots that swarm together in unique ways to pass through numerous traps appearing throughout many complex stages in the game.
The game's environment is said to be composed of cranes, conveyor belts, water and lava pools, and more.
This represents Artifical Life's first venture into iPhone gaming, but they already have an extensive library of mobile titles.