As part of Apple's "iPhone 2.0" announcements at today's WWDC keynote, a number of applications developer with the iPhone SDK were demonstrated.  Among them were several compelling games and game-related titles.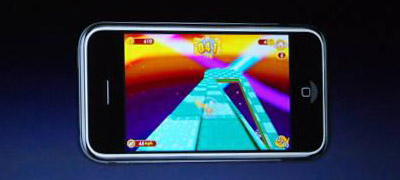 Sega demonstrated the latest build of their iPhone port of their popular Super Monkey Ball.  As readers may recall, Sega demonstrated an early iPhone port of this title that was developed in just two weeks during the January Macworld Expo keynote.  The current version features over 100 levels and will be available at the launch of the iTunes App Store for $9.99.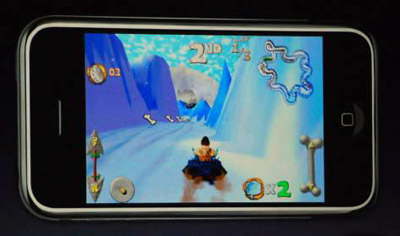 Pangea Software showed two iPhone games in development: Enigmo (Mac version), a puzzle game we reported back in March which makes advanced use of the iPhone's touch controls and notable CPU power and Cro-Mag Rally (Mac version), a 3D racing game which uses the iPhone itself as a steering wheel.  Both titles will be available on the iPhone App Store at launch for $9.99 each.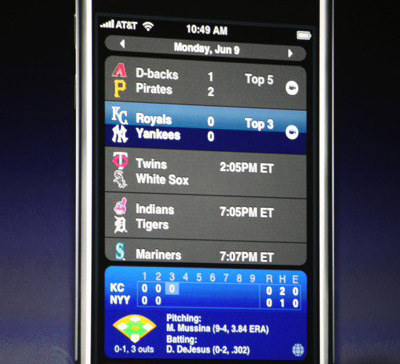 Baseball fans will enjoy the arrival of an app put out by MLB.com.  It provides live scoring and real-time video highlights of games of a different sort–Major League Baseball (the real turf and hot-dogs sort).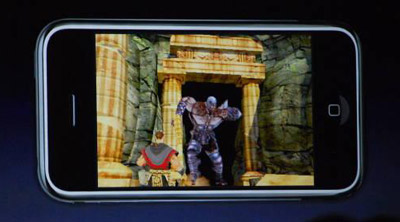 Digital Legends has, in just two weeks' time, put together an amazing looking 3D fantasy adventure game called Kroll that uses OpenGL and touch controls.  The company indicates that the iPhone's rich control schemes and developer APIs makes for a better gaming experience than that of any other mobile gaming device.  Digital Legends' title will be available by September.
We're a month away from iPhone 2.0 and the arrival of the iTunes App Store–and a new era in mobile gaming.  We hope our readers are as excited as we are about what was shown today and what clearly lies ahead.  What a great time to be a gamer!