Apple's World Wide Developer Conference 2008 keynote just wrapped up and all signs point to "awesome" as regards the future of mobile gaming, courtesy of Apple, Inc.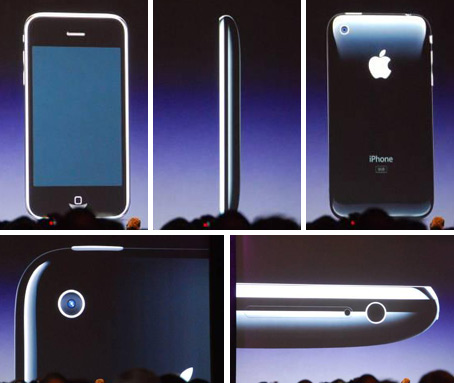 Steve Jobs, as expected, unveiled the next-generation iPhone during today's kenyote.  This latest iteration is thinner than the current iPhone and offers a variety of improved specs including 3G data capability, a true, integrated GPS, and a flush headphone jack.
Standy time: 300 hours (per charge)
2G Talk time: 10 hours
3G Talk time: 5 hours
Web browsing: 5-6 hours
Video playback: 7 hours
Audio playback: 24 hours
The new iPhone features an all-plastic rear enclosure and will be available in both a black 8GB model for $199 USD and a 16GB model offered in both black and white for $299 USD on Friday, July 11th in 22 countries.  Over the next several months availability will expand to a total of 70 countries.
As Jobs demonstrated during the keynote, the new iPhone loads webpages 2.8x faster than the current unit and is 36% faster than other 3G phones (Nokia N95 and Treo 750).  Nearly three times the speed at half the price.
The long-awited "iPhone 2.0" firmware update for existing iPhones and iPod touch units will arrive in early July at no cost for iPhone owners and at $9.99 for iPod touch owners, half the price of the last major update back in January.