Tag Archives:
Turbo Dismount
Upcoming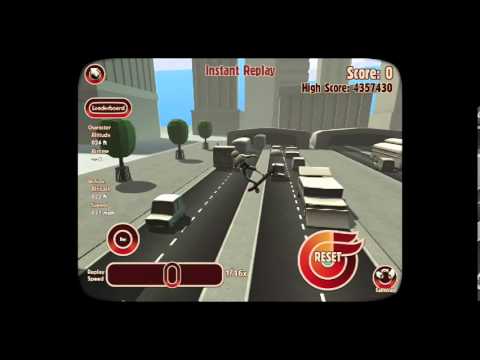 One of the quirkiest and most oddly entertaining iOS games is Secret Exit's Stair Dismount [Free]. The original Stair Dismount dates all the way back to 2002, and sees you pushing a helpless crash test dummy-like character named Mr. Dismount down a flight of stairs and racking up the most damage possible to his body. It used rag doll physics so the dummy's tumble often resulted in hilarity, and there was a twisted sense of satisfaction as you inflicted injury on poor Mr. Dismount. Shortly after the original Stair Dismount came Truck Dismount, which again tasked you with inflicting as much damage to Mr. Dismount as possible but this time gave you a vehicle, ramps, and booster pads to do it with...
Upcoming
Back at GDC in June of this year, we got a sneak peek at a very early version of Turbo Dismount, Secret Exit's follow-up title to their absurd and strangely compelling physics game Stair Dismount [Free]. For Turbo Dismount, the team was using the Unity engine rather than their own in-house engine, giving them a lot more flexibility in terms of developing for multiple platforms. In our preview from GDC, we said "It's very possible that a lot about what's seen in Turbo Dismount will change before its final version, as Jani stated that what they have so far has really been getting themselves up to speed with using Unity and is more proof of concept type work than concrete level or feature design."..
Upcoming
Secret Exit made a splash in the early days of the App Store with Zen Bound [$2.99], a unique and technically impressive puzzle game that was a showpiece for the graphical and multitouch capabilities of iOS devices in early 2009. They followed it up in 2010 with Zen Bound 2 [$2.99], a sequel that raised the bar of the original in every way, but not too long before that they released Stair Dismount Universal [Free], a touchscreen version of their popular "push people down the stairs" physics-based PC game...