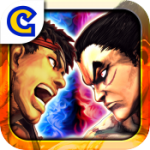 Over the summer at E3, Capcom unveiled a mobile version of their console fighter that pit Street Fighter characters against those from long-time rival series Tekken. They looked to up their game over their previous iOS fighter Street Fighter IV Volt [$4.99] by including fully 3D character models and backgrounds, as well as backgrounds that actually animated rather than the lifeless still shots used in Volt. For the most part they succeeded with Street Fighter X Tekken Mobile [$2.99], though a severe lack of characters and an annoying token system for online battling brought down the experience, things we noted in our review.
Since the game launched in September, Capcom has updated Street Fighter X Tekken with online improvements, and have run several different multiplayer token promotions to give players more chances to battle it out online and level up their profile. Last week, the latest update hit that has added even more technical improvements, but also addresses the tiny roster by adding Rolento from the Street Fighter world and Heihachi from the Tekken world as two new playable characters.
As much as I love Street Fighter X Tekken visually, I still find myself preferring Street Fighter IV Volt when I need to scratch my mobile fighting itch based solely on it having way more characters that I care about. Don't get me wrong, I still enjoy playing Street Fighter X Tekken, there's just too many of my Street Fighter favorites missing from the roster. Hopefully this newest update is the first of many that will flesh out the roster. Also, as part of a year-end sale, you can nab Street Fighter X Tekken for the sale price of 99¢, and even given its shortcomings it's definitely worth considering for that rock-bottom price.
$2.99