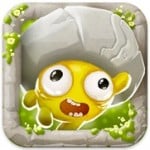 In early March of this year we were treated to a fairly awesome physics puzzler called Pebble Universe [$1.99]. Yeah, I know, yet another iOS physics puzzler makes you slightly nauseous. But if you're the type that can still get excited over the good ones, Pebble Universe was pretty much universally enjoyed. We liked it quite a bit, in fact.
The crux of the gameplay tasked you with timing the release of two exploding pebbles so that they would run into each other and blast apart the evil one-eyed enemies floating in the sky. It's heavily reliant on trial and error, and can be quite difficult at times, but also hugely satisfying when the solution finally comes together.
If you're among those who enjoy Pebble Universe then you've got something to look forward to. A new update is coming August 16th that adds a brand new world called The Factory which will boast more soot-lump monsters, new level elements, and a new type of pebble. Check out this teaser for the new Pebble Universe update as you wait for August 16th to roll around.
$1.99